Hello Everyone,
Happy New Year! We love receiving our family & friends Christmas letters so we wanted to touch base with our annual Christmas/New Year/mid-January update too.
For us (Mark and Tracy) we love opportunities to visit family and friends. In March we visited with our friends John and Amy in Charlotte and we added a visit to Charleston – which is so, so pretty. Meghan joined in as it was March break. An added bonus was dropping in at Mark's family – John and Vicki's – in Philly along the way. We had the pleasure of hosting a weekend gathering for John and Amy's friends around generosity called a JOG (Journey of Generosity). On our trip to Charleston, we had a chance to grab a coffee (and quick visit to an Art Gallery) with Matt Hedrick and his dad Tony. It really was great fun.
Another highlight trip was travelling to Guatemala. Along with five other friends and couples from Ottawa, we travelled to Guatemala City with a child sponsorship organization called Compassion International. We came away highly impressed with the work that Compassion does. A nice bonus for us was that we were able to travel with Luke and Lee-Anne, pastors from church.
This year we had the opportunity to reconnect with some old friends we had not seen in a while. Dan and Nancy Germo were friends from our Bethany days. Dan recently joined the board of ACCI. This allowed Mark and Dan to reconnect and catch up during our meetings in September.
Mark's family celebrated Greek Easter again at Thanos and Josie's in north Toronto for a complete lamb on a spit, a long-lasting tradition. Other connects included our August long weekend in Ottawa on the Rideau and Mark, Thanos and John and our golf getaway in northern New York. We play a round of golf on pretty much the worst golf courses around – but we love it. This year we discovered a local bar that had a great jukebox and pool table. John and Thanos love their music and were in 7th heaven as they were able to play all sorts of old tunes while we all played pool very badly.

Ben moved into his own apartment in late summer and has been enjoying his studies at Algonquin College in the area of App Development. Mom and Dad love having Ben closer to home and connecting with him on a regular basis.
Meghan is finishing off her high school as she completes Grade 12 this year. She's been her usual busy self with school sports (basketball, volleyball, badminton and new this year rugby!!). She continues to work at McDonalds and enjoys some great friendships at Echo Lake Camp.
Stephen graduated from university earlier in the year and quickly ended up taking a summer internship with a company working in China in the area of blockchain development and cryptocurrency. He's now on a one year contract trying to help a small company get launched. That's about as much as we understand and can tell you. Stephen and his girlfriend Mackenzie are navigating a very long distance relationship well it seems.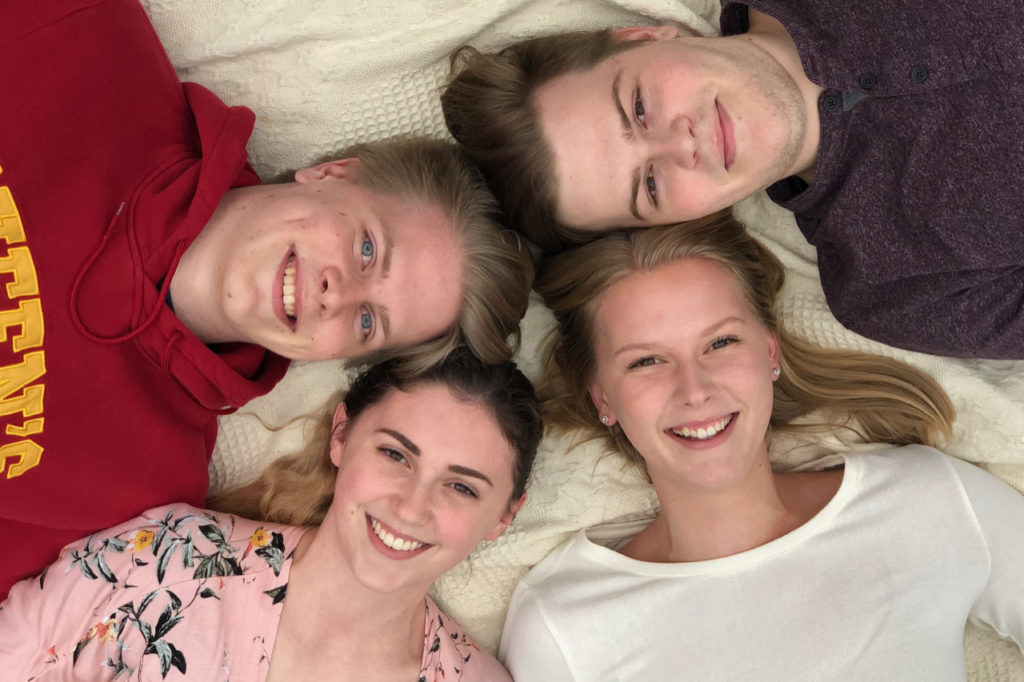 Later this year we plan to put our home on the market and move back a bit closer to the city. We've lived in our county home now for about 18 years and have loved a lot of it. But now with kids not living at home, a country property is a bit too much to handle. So we've spent quite a bit of time and energy in this last year preparing the home for sale. Mark has done some great renos (with the great coaching of Roy) and we are enjoying the updates while we continue to prepare.
Mark and Tracy continue to work together at One Way Ministries which is great (says both of us). Tracy works there half-time. We are just about to host one of our most significant conferences – called Capitalyze. Tracy is also working part-time for a great local company – auctria.com – which provides software that helps organize charity auctions.
We are so thankful for family and friends and hope to see many of you over the next year. For those who live farther away – hopefully we can visit together sometime soon. All the best for 2019!