I get asked from time to time how I manage the things I commit to?
Here's my system.  It seems to work.
When I am meeting with anyone, I use a notebook and pen (fountain of course) to take notes.  I really prefer and enjoy paper and pen.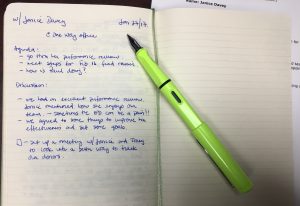 This is what I record.  Each page in my notebook is a separate meeting. Before a meeting, I write who I am meeting with, the location and the date.  If I have an agenda, then I want to make sure we get to it, I will simply list the agenda items.
During the meeting (or right after) I will make note of the following:
What we discussed.  I'll try and capture the essence of what we talked about.  If I agreed to anything, I will write that.  I will always try and capture personal information.  Who is their spouse (if married), kids etc.?  Any issues they share on that front.  What they like to do for fun? What are they passionate about at the moment?
If we met at a coffee shop or restaurant, I'll note who paid.  This way I can keep an accurate count of how we can share these expenses if we meet again in the future.
Commitments I made or the other person makes – I'll use a ? – then write what the commitment was.
Once a week, I review my notes and scan all my meetings for the ?s.  At that point, I either do the task or post it to my task program (which happens to be Nozbe) and schedule a time when I will do the task. Then, this is fun, I tick the box.  Last thing I do (fortunately at the moment, I ask Janice to do this) is scan the whole page where I've written the note and attach the note to our customer relationship management (CRM) software (which happens to be Highrise).
Posting the one page into Highrise allows me to quickly scan what we talked about just before I go into another meeting in the future. Highrise has a handy app – so I can do this on my phone.  I don't know about you, but I don't remember facts like I used to, this helps me stay on top of the details.  As well, if you've captured personal information, it allows me to ask personal follow up questions about their family.  It communicates that I care.  Which I do.
Lastly, I put a big tick at the top of that page.  It tells me I've dealt with all the tasks and it has been scanned into our CRM.
That's how I handle my commitments.  How about you?