Last fall, a number of Ottawa leaders attended the Movement Day Conference in NYC.  It was an excellent time bringing together over 3,000 international leaders.  As part of the welcome package, each participant received the book A Disruptive Gospel: Stories and Strategies for Transforming your City by Mac Pier.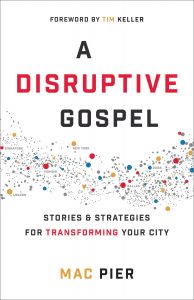 This book fired my imagination for what can happen in a city.  The recent history in NYC is an example.  The book cites Tony Carnes' research that indicates the percentage of the population in Manhattan who worship in an evangelical church has jumped from less than 1% to more than 5% in 25 years.  Pier credits a number of things for this. His big idea is:  As leaders are increasingly present to one another, God is increasingly present to the city.  He goes on to credit united prayer, effective preaching and grace to enhance the planting and growth of churches.  He notes there also has been significant effort in developing millennial leaders to ensure the future of the movement in NYC.
The book looks at movements in a number of other cities and countries from around the world.  These include Dallas, Manila, Mumbia, Chennai, Dubai, Singapore, Port-au-Prince, Pretoria, Kigali and the United Kingdom.
I was particularly struck by the discovery in the United Kingdom that there are at least 116 unity movements.  These movements are found all across the UK in nearly every major city and town. All of them birthed for mission and transformation.
Here are some of the elements that Pier suggests for a healthy city movement:
Everyone involved – the movement does better when it includes the majority of church leaders, Christian organizations and key Christian leaders in the cultural spheres.
Friendship and prayer – a healthy movement sees both of these as growing and important.
Mission – the city leadership must share a regular joint mission with special focus on the most vulnerable.
Transformational vision – people must have a vision to see their city significantly transformed culturally, socially and spiritually over the next thirty years.
Partnership approach – the leaders must be willing to link significantly with public, private and third sector partners.
Spheres focus – church leaders should enable, train, and release church members to be whole life disciples in their spheres of life and influence.
As I was reading the book I was evaluating where we are at in Ottawa.  I think we are doing well in terms of relationships and friendships. Where I think we can grow is the following:
I am looking for more leadership buy-in across the city.  Leaders who catch this vision and are willing to partner.  I'm encouraged to see how much buy in we have and how many leaders are now working together, but we need more.
More passionate, bold  and strategic prayer.  I long for God to visit and disrupt our city and for our leaders to be praying more together.
Creative ways to engage our younger leaders to release them into starting Kingdom focused businesses, social enterprises and churches.
If you want to get stirred up about Gospel City Movements and need some ideas on how to move that forward, pick up this book.  I recommend it.