As the year draws to the end, we wanted to continue our tradition (as many others do) with a year-end family update.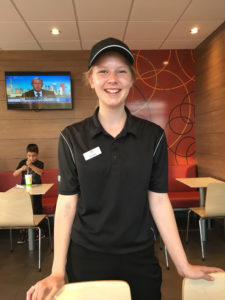 Tracy and Maggie enjoyed a trip to New York City this summer to celebrate the birthday of one of Maggie's close friends.  Maggie is in grade 11 and life is full for her.  She enjoys playing on the school basketball and volleyball teams, serving on the athletic council and participating in the youth group at church.  This year she also started working at McDonald's, a tradition started by Mark and his brother John more than 30 years ago!!  I keep requesting a tour but that request has been denied so far.  I'd love to know just how a Big Mac is made these days.  Maggie continues to enjoy the camps at Echo Lake (3 times a year) where she has developed some great friends.
Ben is studying at Carleton Unversity (Tracy and Mark's Alma Mater).  He enjoys spending the week living
with his aunt Mary Ann, who is a 10-minute walk to the university.  Weekends he is usually back home.  Ben spent part of the summer learning how to seal and paint parking lots.   Ben and Stephen joined their Grandma and cousins in Florida again this summer at the end of August – the coolest time of the year in the southern states!!
With Stephen working this summer in Ottawa, I had a chance to
train with Stephen as he prepared to run his first half marathon this fall – the Army Run.  Race day turned out to be one of our warmer days this year but he did a great job in completing the run respectably.  Stephen is about to start his last term at Queens after which he hopes to graduate with his engineering degree.  We continue to get to know and enjoy his girlfriend Mackenzie.
One of the highlights this year for Tracy and I was to attend my mom's (Gramma Lin) 
baptism.  After experiencing her Christian faith more significantly over the past couple of years, she decided to demonstrate that by public baptism.  It was a wonderful celebration.
This summer I tackled two significant projects – a complete bathroom
renovation (a first for me) and new deck at the cottage.  The bathroom came with lots of help and coaching from Roy (my mom's husband), many of my handier friends and of course Youtube.  I have to admit, there were a few occasions where I struggled and wondered if I was in over my head.  I know you're wondering, yes Tracy liked the results and I was able to pick up some new tools without any guilt.
In October Tracy and I had a chance to travel to London for work with our colleagues Richard and Terry Long.  It was a great trip as we attended a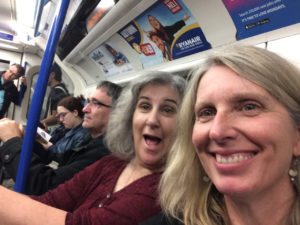 conference together.  Tracy and I also had the opportunity to visit with my cousins Malcolm (Noree), Brian (Julia) and Sue.  It was so much fun to talk about the history of my family and for Tracy to hear about it.  We also visited with Tracy's cousin Dan and got a backstage tour of the Royal Opera House and saw his opera, Les Vepres Siciliennes. We thoroughly enjoyed London and were very fortunate to have fantastic weather while we were there.
This fall Tracy and I were part of an Alpha group that our friends (Mike and Alexis) hosted in their home.  Alpha is a series of sessions exploring the basics of the Christian faith.  We loved making new friends and seeing some of their questions and doubts from their perspective.  It quickly became the highlight of our week.
On Tracy's front, along with working at One Way Ministries (halftime) with me, she picked up a part-time job working with a small software company (Auctria.com) by answering some of their online questions that come in daily.  This she is able to do wherever she is able to get an internet connection, so it offers a fair amount of flexibility.
 She also went on a "reunion road trip" with her friend Jackie to visit Sonja in Vancouver, and oh yes, see U2.  The last time Tracy and Jackie flew together was in 1989 when they backpacked together as university students.
We both continue to enjoy working with One Way Ministries.  We are part of a tremendous team and we are very fortunate to enjoy the work we do.  If you're interested in some of the details of what the organization does, you can see a year-end report here.
Tracy and I want to thank our family and friends who have loved and encouraged us this year.  We really are enjoying an abundant life.  We want to wish you a joyful new year.
God bless.